The 992nd meeting of 
The Mineralogical Society
of
Southern California
August Meeting
ZOOM presentation
presented by Dr. Krista Sawchuk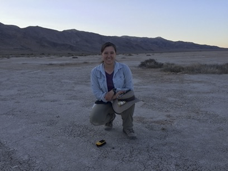 IMPORTANT: We will vote to approve the revised MSSC Bylaws and
Operating Rules & Regulations


Friday, August 13, 2021 at  7:30.
See program notes below
Visitors are always welcome
About us…
The Mineralogical Society of Southern California is dedicated to the dissemination of a general knowledge of the mineralogical and related earth sciences through the study and collecting of mineral specimens. Organized in 1931, it is the oldest mineralogical society in the western United States.
The MSSC is a scientific non-profit organization that actively supports the Pasadena City College Geology Department,   Field Science Scholarship Fund.  Support is also given to Mindat.
The MSSC is affiliated with the California Federation of Mineralogical Societies and American Federation of Mineralogical Societies.
For more information info@mineralsocal.org
---
SPECIAL ZOOM MEETING NOTICE
Effective April, 21, 2021
Paid MSSC members will be automatically on the invite list each month.
For Non Members:
You must request to attend the MSSC zoom meeting every month.
See Meeting page for details.
Yes, the General Meetings at our normal PCC meeting location have been cancelled. BUT! There will be an internet meeting via ZOOM. Our President, George Rossman is offering a MSSC meeting via ZOOM as follows: He uses Caltech's ZOOM license which allows meetings to last as long as the need [Caltech has given him permission to do this]. To sign up for the meeting see instructions in the current month's bulletin.
---
Program Notes: Join us Friday, August 13th for Discovering the Deep Earth, presented by  Dr. Krista Sawchuk
Presentation:  Join Krista on a journey through the deep Earth. The deep Earth, which encompasses the mantle and core, makes up 99% of our planet. Because we can't physically go to the deep Earth, scientists employ a variety of techniques to learn more about it. Krista will share what we do know about the deep Earth and how her research on the behavior of minerals at high pressures and temperatures is helping us learn more about the chemistry of the mantle. 
***Participants who want to do this must respond to our Programs chair, Rudy Lopez at programs@mineralsocal.org  no later than Tuesday August 10, 2021.  Please include "August  ZOOM Meeting" in the subject line of your response. This response date will allow time for us to send you the information needed to participate in the ZOOM meeting and also will allow time to get everything organized at Caltech. 
Upcoming Events
September 10, 2021: Alan Rubin: The Origin of Chondrules via ZOOM

October 8, 2021: Dr. Sarah Milkovich – MARS via ZOOM

November 12, 2021: Paolo Sanchez, UC Berkeley, Geology & Geophysics '22 – Important Minerals you Probably Never Heard of via ZOOM
October 24, 2021: MSSC Board Meeting via ZOOM
---
---
The MSSC is pleased to offer the new 2020 edition of Bob Pedersen's X- Dana