Hi, fieldtrip friends!
We had a nice collecting weekend at Tecopa Opal Beds and Emigrant Pass. Everybody collected nice gemmy opal grains and trilobite heads.
We will continue the fall season with a quick trip to an interesting iron location in the Barstow area. On Sat, Dec 3rd, we will visit the iron & phosphate prospects near the Hodge Rd exit off I-15 south of Barstow. The area has been known for decades for lustrous black blades of hematite, an iron oxide, and dark blue grains of lazulite, an Mg-Al phosphate in a milky-white quartz vein. There were some historical reports of wernerite crystals, but we could not locate any so far. However, yellow-olive layers of another rare mineral, mitridatite, a Ca-Fe phosphate, have been found recently during scouting. It was originally found 100 years ago on the Crimean Peninsula. On the micro side, we also found talc, brown-red rutile, clear apatite, and a surprise — purple corundum grains.
We will meet on Saturday at 8:30 AM at a camping area next to the quarry, 2.4 miles east of the Hodge Rd exit, at these coordinates: 34°44'10.6″N 117°08'09.0″W (34.736288, -117.135831). The meet place is 92.6 miles, an approx. 1.5-hour drive from Pasadena, several miles south of Lenwood, Barstow. The dirt road to the meeting place is in good condition thanks to the operating quarry, sedans should make it with no problems. The collecting place is 1+ mile from there, and due to a rough road, high clearance 4WD is a must. We will arrange carpooling to the location area if needed. Here are the Google directions: https://goo.gl/maps/MACaiXUBZ3yoWJor5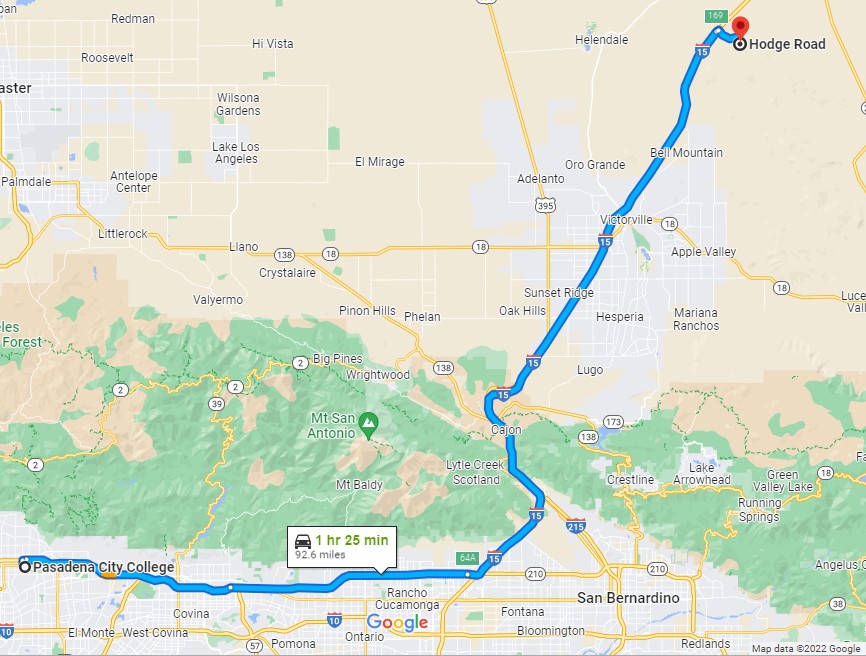 If I see significant rain in the weather forecast two weeks before the trip, I'll reschedule for a week later (Dec 10) and update the website.
Hope to see you all there,
MarekC